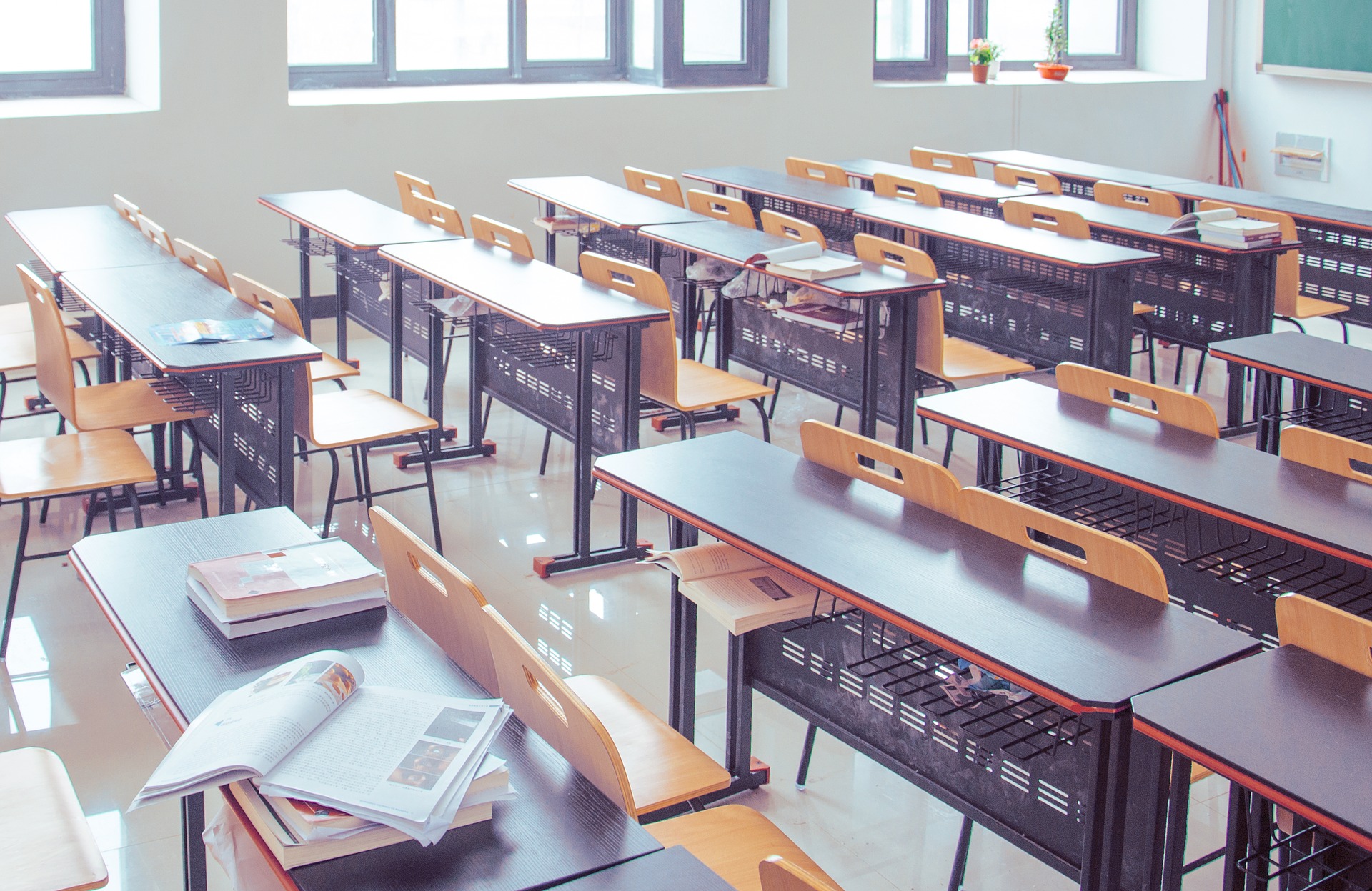 If your kids need to write an essay about school, show these essay samples to inspire them and motivate their own writing. Writers from GPALabs have created these writings for you!
High School Essay (300 words)

Now school can be called my second home. It takes a big place in my life. School has the most influence on my daily routine and what I do. At school I talk with friends and classmates, and learn a lot of new and interesting information.

My school is not new – it is more than twenty-five years old. This three-story light gray building has a rectangular shape. Junior classes study on the first and second floor, and high school students mainly on the second and third. The classrooms in my school are spacious and bright, with large windows and comfortable desks. Their walls are decorated with flowers, paintings, tables and portraits of outstanding scientists.

School life involves not only learning and books, but also a lot of relationships. I have finished the junior high in one town and entered the high school here in Indiana, so I've felt all the emotions of every nervous freshman. On the first day I saw lots of students that were friendly chatting with each other, as it seemed that everyone know each other. For the time I even didn't know with whom I would be sitting. It was a surprise that in our class we have another freshman, Mike, who also moved here with his parents. He is a good guy and we became close friends.

For me, high school has a wide range of responsibilities. I think that I have a rational way of thinking, so I don't want to waste my time drinking beer and spending sleepless nights with weird friends. That doesn't mean I'm a sort of hermit that has become closed to everything in the world. I spend my free time with pleasure: cinema and coffee shops with friends, books and Internet for spending time alone. I dedicate enough time for studying as I plan to go into college or university after graduation, and I simply don't want to become an uneducated person in the future. Time at high school can be easily combined with high-class leisure, you just need to set the right priorities.

My school is very cozy, and it has everything necessary for comfortable studying. I like my school!

School in My Life (300 words)

School is a small life that every adult has already experienced. This is one of the main stages of our lives. Everything in the world begins from smallness – everything is born from a small state, and then grows up: a small sprout becomes a big tree, a stream flows into the river, words turn into sentences and big novels, and from a few notes emerge great melodies. And what about school students? We begin to learn life in school. And then, in adulthood, we rely on our mind and the knowledge that we've gotten at school. Thus, school education is simply necessary.

Unfortunately, many teenagers have a different attitude toward school. Many of them think that they need to have fun and studying is just a waste of time. How can this situation be changed? It is necessary to learn "how to love learning." I think that much depends on parents: they should convince their children that it is necessary to study, because without knowledge it is impossible to survive in a huge and ever-changing world. After all, each of us dreams of a happy future. But to achieve this, it is necessary to put on effort, laying the foundation of this future during school years. It is necessary to change, first of all, the attitude toward studying: today I will not go to the cinema, but I will learn this and this, and start learning two foreign languages in order to get a good job in the future. You also need to find interesting aspects that, at first glance, appear boring. If you don't like biology, try to prepare an additional essay or research paper on a topic that really interests you, go to the botanical garden, to the museum of natural history, and you will learn many new and interesting things.

But we must remember that we always need to rely on ourselves first, and the school will help us, but studying will be only on your head.

My Dream School (250 words)

A person spends the most important years of life in school. Here you will find true friends, determine the choice of hobbies, face real difficulties for the first time, and feel the joy of first victories. School for a long time remains in the heart of every person as a bright stage of life.

I'm lucky, because I'm in a wonderful high school. For ten years now, every morning I happily open the doors of my school and plunge into the motley, noisy, bugging world. This is a special world of students and teachers, in which everyone is rushing somewhere. When crossing the school threshold, I find myself in this stream and swim, observing my direction. I can't leave the feeling that I'm a small part of a large organism, which is called SCHOOL.

In my school, I like everything! Like narrow staircases, round wooden rails, light classes, but most of all – people. We have wonderful teachers! They don't just conduct lessons – everyone tries to make their subject interesting and attractive to students. All together and each teacher separately teaches us not only to solve formulas, to prove theorems, and to write down chemical reactions – thanks to our teachers, we comprehend the most important science: to be honest, kind, communicative, skillful, and to be real friends.

And if someone says that there are more modern, more comfortable schools in other US cities, I will not argue. There are. But if they ask me, "What is the school of your dreams?" I will answer with pride: "This is my own school."

Essay About School (200 words)

The school is the longest, brightest, and most memorable period of our education. For those years that we are learning, each student experiences a lot of different events.

For the first time, we come to school as very small, silly people. We sit down for the first time at school desks, meet our first teacher, and get acquainted with our classmates. Here we open our first textbook, and we are taught to read and write, to express our thoughts. At school we evaluate our knowledge for the first time, and remember how we were happy to have brought the first A+.

Over the many years that we are studying, classmates and teachers are becoming our close people. School for many of us becomes the second home, because we spend most of our time there.

At school, we face various difficult exams and tests, not only in general subjects, but also in life exams. Here we learn to work in a team, make well-informed decisions, make choices, and help others.

We come to school as children, and we end up as adults who are ready to enter an adult and independent life. Each of us has his or her own worldview, interests, goals, and desires. The school prepares us for life, tempering our character.

About the school years, there are always warm and happy memories. After some time, many want to dive again into the school years.
N.B. Our team should inform you that this piece of writing shouldn't be copied to your own paper. Your writing will be considered as plagiarism. We recommend you to use texts (that were written by our writers) as a source of inspiration. Also check our sample essay "Why education is so important" and guidelines about how to write essay about education to have a better understanding of how to write essays.
If you will find it hard to write a high school essay on your own, think about using our academic writing services! Our writers produce unique texts of high quality – you just need to fill in the order form! Describe how the finished paper should look: the tutor's requirements, documents, and your personal vision. Also set the due date and receive a complete paper before the deadline!